saiphptc-cashout is 0.05 $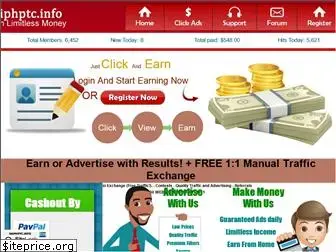 Presentation
You'll find 15 ads daily for a price per click of 0.00075 $ when you're standard user. The latest status attributed to this site by nbr is : new. By looking at our grade, you can see at a glance if this Paid To Click is a scam or legit PTC.
The minimum to cashout is 0.05 $ and the TOS said that the payment deadline is some hours. You can choose among the following payout methods : Paypal. With this P.T.C. website you will win 5 % of your referral earnings.
http://www.saiphptc.info
Minimum Withdraw is now $0.05
Info
Payout 0.05 $
Members count between 1 000 and 10 000
Average referral rate 5%
Payment within some hours
Profit per click 0.00075 $
Available clicks per day 15
Payment solutions Paypal
Main currency $
Language english
Free site Yes
REFBACK SITES - 80%
MODE: REFBACK 80% Unless otherwise stated.
ATTENTION: During registration check that the Upline [nelomota] matches.
RECOMMENDATIONS: Clean Cookies or use a different browser than the one used to visit ads
MODALIDAD: REFBACK 80% Salvo que se diga lo contrario.
ATENCIÓN: Durante el registro verificar que el Upline [nelomota] coincida.
RECOMENDACIONES: Limpiar Cookies o utilizar un navegador diferente al usado para visitar anuncios
Last edited by Admin on Wed 22 Mar 2017, 7:39 pm; edited 2 times in total
https://www.neverclicks.com/t1018-saiphptc-provas-de-pagamento#8761
mais uns trocos,,


https://www.neverclicks.com/t1018-saiphptc-provas-de-pagamento#9264
Mais um Pagamento

Request Date Method Account Fee Net
Mar 22, 2017 Paypal $0.01 $0.12 Click To Cancel

Request Payment


---
Permissions in this forum:
You
cannot
reply to topics in this forum